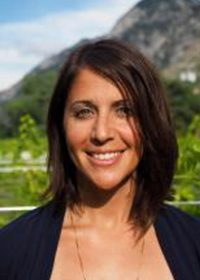 Assistant Professor
SSMS 2415
Mona Damluji is Assistant Professor of Film & Media Studies at the University of California, Santa Barbara. Mona received her PhD from the University of California, Berkeley in Architecture and has worked as a freelance producer and editing assistant for independent documentary filmmakers and television outlets including PBS, NBC Olympics and the National Geographic Channel. Mona's teaching, research and creative work engages underrepresented media histories and cultural studies of energy, cities and infrastructure centered in the Middle East and its diasporas. Her research and writing has been supported by the National Endowment for the Humanities, the Mellon Foundation, the Social Science Research Council and the Arab Council for the Social Sciences.
Her current book project, Pipeline Cinema, is a history of how multinational petroleum companies have shaped local cultural norms and global popular imaginaries of oil in Iran and Iraq through film use and cultural sponsorship in the twentieth century. Her publications appear in Media+Environment, International Journal of Contemporary Iraqi Studies, Media Fields Journal, Urban History, Comparative Studies of South Asia, Africa and the Middle East, Jadaliyya, International Journal of Islamic Architecture, Ars Orientalis, MEI Insights and the edited volumes Subterranean Estates: the Life Worlds of Oil and Gas and Petrocinema: Sponsored Film and the Oil Industry.
Mona is a Peabody Award and Emmy Award-nominated producer of two seasons of the short documentary series The Secret Life of Muslims and consulting producer for the Oscar-nominated short film Stranger at the Gate (2023). She is a co-curator of the traveling exhibition Arab Comics: 90 Years of Popular Visual Culture and Multitudes: An Art Exhibit after #muslimban. Mona recently authored Together (Seven Stories Press), a children's book and poem celebrating the power of collective action.
Specialization
Energy Humanities, Film, Middle East Studies, Media History