Please contact ENST staff before you begin work. We will advise you of the documentation requirements.
A person is prohibited from working without some type of appointment (including without salary employees); this is mainly to ensure Workers' Compensation coverage. In addition, any persons not currently employed on campus will need to complete employment documents before their first day of employment. Please have prospective student employees contact the Financial Team or Erinn Magann to set up a hiring appointment, which should take approximately 20 minutes.
Staff Process
PI must fill out pay rate, begin date, end date, max hours and description of duties. Employee must fill out top portion.
The Financial Team will take care of the rest and contact PI and employee for original signatures once completed.
Work-Study
If you have been awarded Work-Study, bring your Work-Study Referral with you when you come in to fill out hiring paperwork.
New Employee Check-list (COVID-19)
 Fill out new employee paperwork
o Personal Data Sheet - DocuSign
o Identify a I-9 Verifier (Step B Below) - Email Contact Info to es-ap@es.ucsb.edu
o Contract - DocuSign
o UC Student-Workers Union Membership form - Email to uaw2865@uaw2865.org
 I-9 Process (Step A-C)
 Step A: Complete Section 1 of the I-9 Tracker Process you will receive this via email
From employment.authorization@universityofcalifornia.edu with the Subject Line: For I-9 for New Hire: Must complete prior to work).
o You will need to have Originals of your Identification Documents which cannot be expired. Acceptable documents can be found: https://www.uscis.gov/i-9-central/form-i-9-acceptable-documents.
o This step must be completed no later than their first day of employment.
 Step B: Please provide the Step B info as soon as possible to email es-ap@es.ucsb.edu
o To complete Section 2 of the I-9 Tracker process you must respond to this email with the Name, Email Address and relationship to you of the person who will be verifying your documents in-person. They will receive an email directly with directions and a link to the secure portal for upload.
o Who can be a verifier?
§ The person must be 18 years of age or older
§ The person cannot be related to you by blood or marriage
§ The person should be someone you trust to see your Identification Documents
­­­­­Step C: Verifier Task - Have your verifier upload the documents into the secure portal within 3 business days of the date of hire (the hire date means the first day of work for pay).
o Please note that documents provided to the verifier should be the same as the documents used in completing the Section 1 of the I-9 Tracker Process.
o Once this process is complete you will be one step closer to being ready to begin working at UC Santa Barbara. If you do not complete these steps in the time frame given you will be terminated.
 Oath of Allegiance
o Once you're Job is approved through UCPATH, our team will
§ Schedule a Zoom meeting
§ Send you a DocuSign Oath form to Sign DURING the Zoom meeting
o Must be completed on or before the employee's first day of work (US Citizens only).
 Final UCPath Tasks
On or After your 1st day of work, sign into the UC Employee portal to prefer remaining tasks
Sign into UCPath - https://ucpath.universityofcalifornia.edu/
o Set up Direct Deposit (IMPORTANT)
o State & Federal W-4
o Patent Agreement form
o Self-Identification of Ethnic Group, Disability status
log in using your UCSBNet ID
You will do three things here:
1. set up Direct Deposit
2. fill out your W-4
3. sign the Patent Agreement form
On the main page, scroll down a bit and expand the "Income and Taxes" section. You will then see the Direct Deposit and CA State & Federal W-4 links.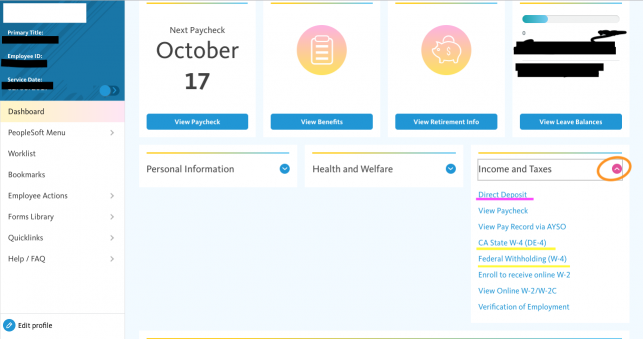 To get to the Patent Agreement form, you'll begin at "Employee Actions" >> Personal Information >> Patent Acknowledgment.
You can expand your side menu by pressing the button (yellow arrow).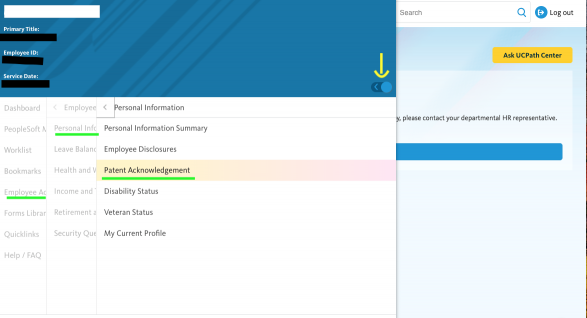 You will sign in with your UCSBnetID. This will take you to Kronos, our online timecard system.
You are a Bi-Weekly employee and will
submit
a timecard every other week.
Please see the payroll calendar attached for pay period dates
. On this form, the blue circles indicate the end of a pay period. You will
submit
time on the Friday before a blue circle Saturday.
In the Pay Code Column you will select
Hours
Worked (yellow), indicate how many and then Save (green circle). The "Approve Timecard" (green square) will lock your timecard when you want to finalize it but you can Un-approve to make changes and then approve again.
The red blocks by Thursday indicate that those
hours
are saved.