Environmental Studies offers advising to current and prospective students. Advising is one way to make the most of your university experience. Ask questions, seek advice, and make decisions that work best for you.
Academic Advising Fall 2023
If you need advising for the Environmental Studies or Hydrological Sciences majors, please first visit our Frequently Asked Questions (FAQ) page for answers to many common questions. Students are also welcome to email their questions to advising@es.ucsb.edu and we will do our best to respond as soon as possible (normally 1-2 business days).
Environmental Studies Academic Advisors are available for live advising both via Zoom appointments and in-person during drop-in hours at the following times:
Students may come by for drop-in advising on a first come-first serve basis Monday through Friday 1:15-4:00 pm at the ES Advising Office in Bren Hall 4313 (across from the ES Main Office).
Remote advising is available by appointment via Zoom on Monday through Friday 9:00-12:00pm. Please click on the button below to review advisor availability and schedule an appointment.
Additional Sources of Advising at UCSB
The College of Letters and Science Advising Office (1117 Cheadle Hall) may help students with: planning one's General Education program, understanding University requirements, policies, and procedures, assessing your progress to degree, obtaining and submitting petitions, and evaluating all of your academic and transfer work, etc.. http://www.duels.ucsb.edu/advising
Career Services (Bldg. 599) offers career workshops, career assessment, occupational information and professional networking options, part time job and internship listings, employment listings, job search strategies, and graduate school information. http://career.sa.ucsb.edu/
Undergraduate Counseling Services (Bldg. 599) provides personal counseling to assist students in resolving the personal and relationship concerns which could impede your academic progress. Our counselors will work with you to help you decide which direct services that might best meet your needs, and/or make appropriate referrals to other services with careful follow-up processes. https://caps.sa.ucsb.edu/.
Students can also access virtual counseling services through Live Health. You do not need a referral to seek services through Live Health and they operate from 7am-9pm and on weekends. To learn more, please visit https://caps.sa.ucsb.edu/services/livehealth---teletherapy
Campus Learning Assistance Services - CLAS (Student Resource Building, Rm 3210) offers a wide range of tutorial and academic skills programs designed to assist students in attaining mastery of their university course material. In addition, CLAS has a staff of dedicated professional learning skills counselors to help students through the intricacies of subjects and skills as varied as calculus, organic chemistry, time management, and term paper composition (to name but a few).http://www.clas.ucsb.edu
Education Abroad Program (2431 South Hall) is your academic link to studying around the world. Students in the University of California are fortunate to have available to them the premier study abroad program in the country. UC's Education Abroad Program has 247 programs in 150 universities worldwide, in 35 countries on six continents. EAP enables students to spend some period of their academic career -- a year, a semester, a quarter or summer term --studying abroad. While abroad they remain fully enrolled UC students. http://www.eap.ucsb.edu
Education Opportunity Program offers additional advising and counseling to students. EOP is committed to providing a support and information base that validates each student's experience and nurtures a sense of participation, belonging and empowerment. You can learn more about EOP services here: http://eop.sa.ucsb.edu/
Academic Advisor

Tara Robinson
Bren Hall 4313 (Floor 4L)
(805) 893-2283
advising@es.ucsb.edu
Advising Hours
Monday - Friday
9:00am - 12:00pm
1:15pm - 4:00pm
Academic Advisor and Student Services Manager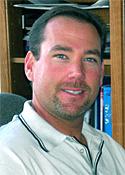 Eric Zimmerman
Bren Hall 4312B (Floor 4L)
(805) 893-3185
advising@es.ucsb.edu