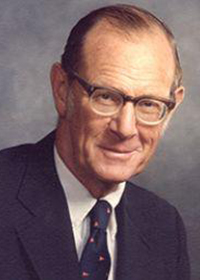 Emeritus Lecturer
Retired after twenty years at UCSB, Arent H. "Barry" Schuyler, Jr., was one of the faculty who helped found the environmental studies program in 1970 and was chairman of the program for four years. Before coming to UCSB he taught high school science and math.
Dr. Schuyler received a B.A. in chemistry from Caltech, an M.S. in biology from UCSB, and a Ph.D. in environmental studies and engineering from UCLA. His research interests are the hazards and risks of oil and marine operations in the Santa Barbara Channel. He was an advisor to State Senator Gary Hart on these matters.
Dr. Schuyler has been president of the trustees of the Santa Barbara Museum of Natural History and is currently chairman of the board of the Santa Barbara Maritime Museum. He and his wife, Jean, live in Santa Barbara and are members of the Chancellor's Council and the Lancaster Society. They endowed a chair in environmental studies at UCSB.
Sailing is an important part of Dr. Schuyler's life and he has made over a hundred trips to the Santa Barbara Channel Islands, especially to San Miguel Island. He became a trustee of The UCSB Foundation in 2000.
Dr. Barry Schuyler passed on April 28, 2011.