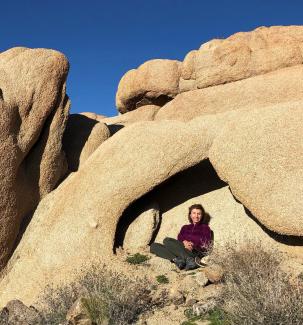 Deborah Williams has been actively involved in conservation and sustainable community issues for over 40 years. Deborah received her B.A. from Pomona College, summa cum laude, with a concentration in Biology and Economics. Subsequently she was graduated from Harvard Law School, with honors, and was the co-founder of and co-editor-in-chief of the Harvard Environmental Law Review.

After serving in the Department of Interior's Solicitors Honors Program in Washington D.C., Deborah represented the National Park Service and the U.S. Fish and Wildlife Service in Alaska. Between 1981 and 1994, she practiced law, and was the Executive Director of the Alaska Consumer Advocacy Program and of the Alaska Lung Association (with an emphasis on reducing air pollution), while serving on many boards and commissions, including the Municipal Health Commission (chair of the Environmental Health Committee).

In 1994, Deborah received a Presidential appointment, and became the Special Assistant to the Secretary of Interior for Alaska, in which position she advised the Secretary about managing over 220 million acres of national lands in Alaska and working with Alaska tribes and others associated with the Department's broad natural and cultural resource jurisdiction. She also was a Trustee on the Exxon Valdez Trustee Council and other boards.

Deborah then served as the Executive Director of the Alaska Conservation Foundation, winning many awards in that role and helping to achieve numerous public policy victories for the environment and indigenous peoples. During her tenure, Readers Digest named Alaska Conservation Foundation as one of the 12 Best Charities in the nation. Subsequently, Ms. Williams became President of Alaska Conservation Solutions, an organization devoted to addressing climate change. In her various roles, Ms. Williams received many awards, including the first "Spirit of Defenders Award for Citizen Advocacy" from Defenders of Wildlife.

After residing in Alaska for over 37 years, Deborah moved back to California, and among other projects created the widely used Public Lands Website: "50 Great Public Land Destinations – Santa Barbara and Beyond." She also serves as a Commissioner on the Goleta Parks and Recreation Commission.

Deborah has published scores of law review articles, OpEds and other articles, and has been featured repeatedly in local, state and national media (including 60 Minutes, the New York Times, the Washington Post and BBC).

Together with her husband and her son, Deborah appreciates, enjoys and celebrates living in Santa Barbara County, teaching at UCSB, and exploring public lands and waters throughout the nation.