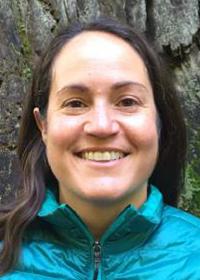 Julie Maldonado is Associate Director for the Livelihoods Knowledge Exchange Network (LiKEN), a link-tank for policy-relevant research toward post-carbon livelihoods and communities. She is co-director of Rising Voices: Climate Resilience through Indigenous and Earth Sciences, works with the Institute for Tribal Environmental Professionals to support tribes' climate change adaptation planning, and is a lecturer in University of California-Santa Barbara's Environmental Studies Program. Dr. Maldonado is also a founding member of the Culture and Disaster Action Network.
As a public anthropologist, Julie has consulted for the UN Development Programme and World Bank on resettlement, post-disaster needs assessments, and climate change. She worked for the US Global Change Research Program and is an author on the 3rd and 4th US National Climate Assessments. Her doctorate in anthropology from American University focused on the social and cultural impacts of environmental change and habitual disasters in coastal Louisiana. She was the lead editor for a special issue for the journal Climatic Change entitled, Climate Change and Indigenous Peoples in the United States: Impacts, Experiences and Actions, which was published in 2012. Her book, Seeking Justice in an Energy Sacrifice Zone: Standing on Vanishing Land in Coastal Louisiana, and co-edited volume, Challenging the Prevailing Paradigm of Displacement and Resettlement: Risks, Impoverishment, Legacies, Solutions, were both released in 2018. As part of LiKEN, she organized and is executive producer of the Paper Rocket Productions film, Protect, which will be released in December 2018.
Dr. Julie K. Maldonado was awarded the President-Elect's 2016 Western Social Science Association's Outstanding New Scholar Award. The Immediate Past-President of the WSSA, the President, and the President-Elect annually honor a junior faculty member at a United States university who has been active in his or her discipline for less than five years after receiving their Ph.D. The awards recognize cutting edge research, substantial contributions to the social sciences, and the strong promise of future such contributions.
Maldonado has also worked on various projects:
Education
Ph.D., Anthropology, American University
B.A., Psychology, Washington University in St. Louis
Research
Dr. Maldonado's research focuses on climate change and adaptation; migration, displacement, and resettlement; and disaster recovery and risk reduction
Julie Maldonado on Human Rights and Climate Change (American Association for the Advancement of Science)