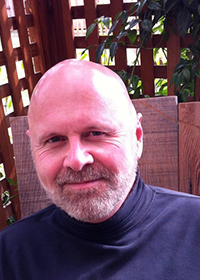 Professor
South Hall 2508
Since arriving at UCSB in 2006, he has served as Director of both the Early Modern Center and the Literature and the Environment Initiative. He received his Ph.D. from Harvard University, where he garnered a number of distinctions as a researcher and Teaching Fellow, including the Bowdoin Prize. Prior to becoming a professor, he made his living as a furniture maker. Hiltner is Director of the Environmental Humanities Center (EHC).
Specialization
Literature, the Medieval Period, and Environmental Initiatives
Education
Ph.D., Harvard University
Research
Professor Ken Hiltner's passion is for both old books and imagining how they might be reinvented digitally. As one of the managing officers for the Milton Society of America, he is spearheading an effort to make Milton's great epic poem Paradise Lost into a highly collaborative, social edition optimized for tablet computers. This reliable and up-to-date digital book will be made available to students and other interested individuals worldwide absolutely free of charge. Hiltner has also written a number of books and articles exploring how our modern environmental crisis began making its appearance in Milton's era.