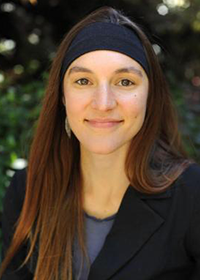 Associate Professor
Bren 4015
Liz Carlisle is an Associate Professor in the Environmental Studies Program at University of California, Santa Barbara, where her work focuses on fostering a more just and sustainable food system. She holds a Ph.D. in Geography from UC Berkeley and a B.A. in Folklore and Mythology from Harvard University, and she formerly served as Legislative Correspondent for Agriculture and Natural Resources in the Office of U.S. Senator Jon Tester. Recognized for her academic publishing with the Elsevier Atlas Award, which honors research with social impact, Liz has also written numerous pieces for general audience readers, in the New York Times, Los Angeles Times, Business Insider, and Stanford Social Innovation Review. She is the author of two books about transition to sustainable farming: Lentil Underground (winner of the 2016 Montana Book Award) and Grain by Grain, coauthored with farmer Bob Quinn.
Specialization
Agroecology and Sustainable Food Systems, Regenerative and Organic Agriculture, Food and Agricultural Policy
Education
2015 Ph.D. Geography, University of California, Berkeley
2006 B.A. Folklore and Mythology, Harvard University
Research
Dr. Carlisle's research program focuses on sustainability transition in the food system, and she works closely with farmers to understand both barriers and opportunities for scaling out agroecological management of farmland.