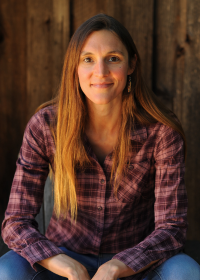 Associate Professor
Bren 4015
Liz Carlisle is an Associate Professor in the Environmental Studies Program at UC Santa Barbara, where she teaches courses on food and farming. Born and raised in Montana, she got hooked on agriculture while working as an aide to organic farmer and U.S. Senator Jon Tester, which led to a decade of research and writing collaborations with farmers in her home state. She has written three books about regenerative farming and agroecology: Lentil Underground (2015), Grain by Grain (2019, with co-author Bob Quinn), and most recently, Healing Grounds: Climate, Justice, and the Deep Roots of Regenerative Farming (2022). She is also a frequent contributor to both academic journals and popular media outlets, focusing on food and farm policy, incentivizing soil health practices, and supporting new entry farmers. She holds a Ph.D. in Geography, from UC Berkeley, and a B.A. in Folklore and Mythology, from Harvard University. Prior to her career as a writer and academic, she spent several years touring rural America as a country singer.
Education
2015 Ph.D. Geography, University of California, Berkeley
2006 B.A. Folklore and Mythology, Harvard University
Research
Dr. Carlisle's research program focuses on sustainability transition in the food system, and she works closely with farmers to understand both barriers and opportunities for scaling out agroecological management of farmland.