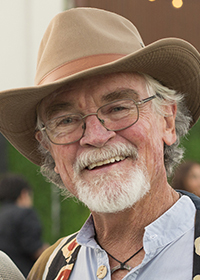 Emeritus
Marc McGinnes retired from his regular teaching duties in 2005, capping a distinguished 33-year teaching career at UCSB during which he won numerous teaching awards, including the Alumni Association Outstanding Teaching Award. As an emeritus member of faculty, he has continued to advise and mentor students, to conduct research, and to accept invitations to speak on campus and in the community. In 2017 he developed and taught a now-popular seminar on the topic of Hope That Works.
McGinnes is a graduate of Stanford University (B.A. History, 1963), where he was an honors student in history and an intercollegiate athlete in four sports, and of the University of California at Berkeley School of Law (Boalt Hall, 1966). Following post-doctoral study in France as a Rotary International Foundation Fellow, he joined the San Francisco law firm of Thelen, Marrin, Johnson & Bridges as an attorney working for Bechtel and other clients in the engineering and construction industries. In 1969 he moved to Santa Barbara in order to begin work as an environmental lawyer in the aftermath of the offshore oil platform blowout and spill early that year.
He served as chair of the January 28 Committee which presented the Santa Barbara Declaration of Environmental Rights at the national Environmental Rights Day conference on the first anniversary of the blowout and spill. He then became the founding president of the Community Environmental Council (1970), one of the nation's first community-based environmental education centers, and in 1971 he accepted the invitation to join the faculty of the newly-established Environmental Studies Program, where he developed and taught ten courses in the areas of environmental law, policy, dispute resolution, and ecopsychology, including the longest running undergraduate course in environmental law in the United States. McGinnes also developed and taught courses for the Law and Society Program. He is the author of Principles of Environmental Law (Rainbow Bridge 1980).
In addition to his academic teaching and scholarship, McGinnes has been a pioneer in the professional practices of environmental law (the application of legal principles to address environmental problems) and legal ecology (the application of ecological principles to address legal problems such as inappropriate adversarialism).
McGinnes began practicing environmental law in Santa Barbara in 1969, and in 1977 he led the founding of the Environmental Defense Center (EDC), a regionally-centered public interest environmental law firm. EDC led a successful 6-year struggle on behalf of Native American groups to prevent the construction of a liquified natural gas (LNG) facility near Pt. Conception on land held by them to be sacred. EDC lawyers have represented dozens of environmental organizations and others in scores of cases involving a wide variety of planning and environmental protection issues.
In 1986 McGinnes led the founding of two groups—Peaceful Resolutions Institute and Community Mediation Council-- that facilitated the development and delivery of mediation and other alternative dispute resolution services in the community. His presentations on Using and Practicing Law as a Healing Art have been featured at numerous conferences on peacemaking and conflict resolution.
From 1970 to the present McGinnes has served as a director and advisor to numerous non-profit organizations including the Congress on Optimum Population and Environment (Chicago), Earth Island Institute (San Francisco), Antioch University (Santa Barbara) and Viridis Graduate Institute (Santa Barbara).
McGinnes is also an accomplished performer on stilts who has been an uplifting presence on campus and around town with considerable regularity since 1975. His second book, Rise Up! A Stilter's Adventures in Higher Consciousness (Mercury Press 2017) was recently published, and he is currently at work on his third, Falling in Love with the Earth, Again which will be released in Fall 2018.
Specialization
Environmental Law, Policy, and Dispute Resolution