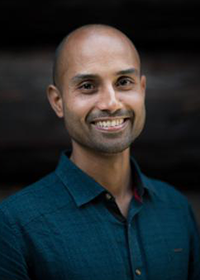 Assistant Professor
Bren 4003
Ranjit Deshmukh is an Assistant Professor in the Environmental Studies department at the University of California Santa Barbara. Ranjit's research interests lie at the intersection of energy, environment, and economics, specifically in low carbon energy systems, clean energy access, and electricity markets.
Prior to joining the University of California Santa Barbara, Ranjit was an ITRI-Rosenfeld postdoctoral fellow at the Lawrence Berkeley National Laboratory. Ranjit holds a PhD in Energy and Resources from the University of California at Berkeley, master's degrees in
Engineering from Humboldt State University and University of Texas at Austin, and a bachelor's degree from the Government College of Engineering Pune, India. He was a Siebel Scholar and a Link Energy fellow while at UC Berkeley and a Schatz Energy fellow at Humboldt State University.
Education
2016 Ph.D., Energy and Resources, University of California at Berkeley
2008 M.S., Environmental Systems, Humboldt State University, California
2001 M.S., Manufacturing Systems Engineering, University of Texas at Austin
1998 B.E., Mechanical Engineering, College of Engineering, Pune, India
Research
Ranjit is broadly interested in low carbon energy systems and clean energy access. Specifically, his key interests include: 1) strategies, policies, and market mechanisms for renewable energy integration in electric power systems, 2) incorporating multiple techno-economic, social, and environmental criteria for sustainable energy system planning, 3) technologies and incentives for increasing access to clean energy services in developing regions and low income communities. Ranjit's work has taken him to India, Indonesia, and several countries in Africa. In pursuing his academic and applied research, he works closely with both government and non-government stakeholders including regulators, electric utilities, government ministries, non-profit organizations, and local communities.
Low carbon electricity system planning and operations
With abundant resources and declining costs, both wind and solar technologies have the potential to significantly decarbonize our energy systems. However, their large-scale deployment introduces challenges in operating and planning future electricity systems and may conflict with social and environmental objectives. With high spatial and temporal resolution models, Ranjit examines the impacts of wind and solar technologies and develops strategies to minimize those impacts.
In collaboration with colleagues, Ranjit is developing an open-source modeling platform for planning cost-effective investments, ensuring reliable operations, and enabling efficient markets for future low-carbon electricity systems. Under this research area, he is co-leading projects in both India and Southern Africa.
In the past, Ranjit co-led a renewable energy grid integration study to model India's power system, and analyze operational and market strategies to integrate high shares of wind and solar generation. This study was a collaboration between the Lawrence Berkeley National Laboratory, the National Renewable Energy Laboratory and the Power Systems Operations Corporation of India and was supported by the United States Agency for International Development (USAID).
Planning and prioritizing wind and solar resources
Ranjit co-leads the development of the Multi-criteria Analysis for Planning Renewable Energy (MapRE) platform – an open-source data and tools platform, which enables the identification and valuation of spatially-explicit, cost-effective but environmentally and socially sustainable wind and solar resources across large geographical regions. Ranjit's projects have focused on countries in eastern and southern Africa and in India.
His ongoing projects include applying MapRE to countries in the Southern African Power Pool to understand priorities of different stakeholders in planning wind and solar plants and identifying resources that best meet multiple stakeholder criteria. MapRE tools continue to be used by researchers at the World Bank and other academic institutions for planning renewable energy deployment in several countries including Bangladesh, Vietnam, Nicaragua, and Afghanistan.
Website: mapre.lbl.gov
Clean Energy Access
Globally, almost a billion people do not have access to electricity and about 2.7 billion people lack access to clean cooking options. Declining costs and increasing efficiencies of technologies including light-emitting diodes (LEDs), solar photovoltaics, battery storage, and induction cookstoves have the potential to provide access to clean energy services to those who lack access.
Under this research area, Ranjit's ongoing projects include understanding incentives and mechanisms that would encourage adoption of energy efficient lighting and other appliances in low income households in developing countries. His previous research efforts focused on analyzing policies to encourage deployment and ensure sustainable operation of renewable energy-based mini-grids.
Climate-Water-Energy Nexus in low carbon systems
This is a new area of research. We are exploring the interactions between climate, water, and energy, specifically in future low carbon systems. Our initial geographical focus is California.